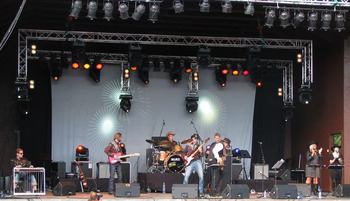 Ett riktigt countryband som kör nästan all slags country!
Old country, modern country, rock, bluegrass & linedance!
De kan även bjuda på countryversioner av klassiska hits som
Highway to Hell
I Wanna be Sedated
Satisfaction
Honky Tonk Women
Does Your Mother Know
m.m.
Ett perfekt band för en riktig countryfest.
Välkomstmusik när gästerna kommer!
Partycountry på kvällen när det skall dansas loss!
Här bevisas att country verkligen kan svänga!!!!!!
Även bra för kortare country inslag på fester, mässor, konferenser m.m.
Kan även erbjuda Linedance uppvisning med lektion som ett inslag i showen.
Här finns allt för western fansen.
Akustiskt, elektriskt eller både och beroende på önskemål.
Trummor, bas, gitarr, dobro, steelguitarr, fiol m.m.