Härlig underhållning på Franska, Engelska eller Svenska!
Mingel, temafester, konsertframträdande.
Julia and Claudia
Claudia and Julia Jonas have been composing music together for their entire childhood.
It seems clear that the sisterly connection creates an incredible unity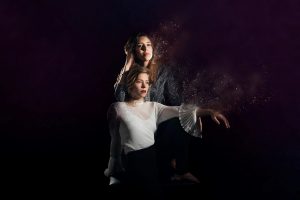 and musical understanding in this collaboration.
Both born in Capetown, South Africa to a Belgian mother and South African father,
then raised in Stockholm, Sweden, the duo frequently draw from their vast cultural heritage
when creating their own music as well as putting a gentle touch of their own
into any recreations of known songs.
The sisters both recently graduated from the Royal College of Music in Stockholm
with a masters degree in Music and Media Production wherein they gathered a vast array
of musical talents and began to truly focus on their skills.
They currently perform and compose both as a duo and also as solo artists
in an array of contexts and places around the world.
When entertaining, the Jonas sisters never limit themselves to any type of function, event, musical genre
or even language for that matter with the two speaking fluently in; English, French and Swedish.