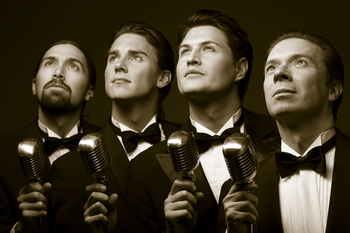 Fantastic Four
Underhållning och musikglädje i världsklass.
Få grupper har haft en sådan lång karriär som Sveriges största Motowngrupp
The Fantastic Four.
Denna 20års jubilerande grupp slog igenom i TV4´s tittarsuccé "Talang 2007". Sedan dess har The Fantastic four varit en dynamisk och tongivande kraft inom svensk nöjesindustri och har rönt stora framgångar genom åren.
Succédebut albumet nådde Svenska Albumlistans tredjeplats före storheter som Madonna och Metallica, man blev världsmästare i underhållning i (WCOPA) Hollywood, L.A. världens största internationella underhållningstävling.
Gruppen har samarbetat, producerat och spelat med artister som
Bruce Kulick (KISS) Richard Street (The Temptations) Sarah Dawn Finer, Darin, Eric Saade Mikael Rickfors, Gladys Del Pilar mfl.
När du bokar The Fantastic Four erbjuds en hitkavalkad av stora mått paketerat med
stil, finess och en stor dos humor.
The Fantastic Four kan du boka med eget band, som gästartister eller i singbackformat.
Detta är underhållning i världsklass!